This page shows customers how to find their water meter(s) and valves.
Types of meters
Water meters are typically located in front of the house near the street.  Our main water lines are buried underground so the meters are also underground. Meters are housed in meter boxes for protection. We have several types of meters and they can be found here.
Meter Location
The Texas Administrative Code §24.86-1(a)(3) states "meters shall be located on the customer's property, readily accessible for maintenance and reading, therefore, the meter shall be at a location mutually acceptable to the customer and the utility. The meter shall be installed so as to be unaffected by climatic conditions and reasonably secure from damage."
Customers are advised to use caution when removing a meter box lid. A variety of insects and reptiles like to take refuge in cool, dark places, such as meter boxes.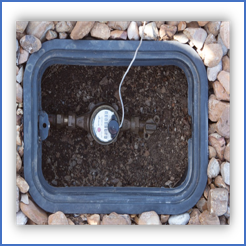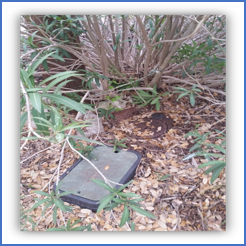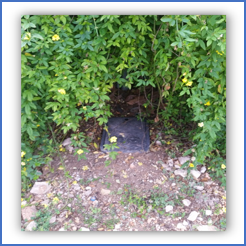 Here Are Some Safety Precautions:
Wear heavy gloves while lifting the lid.
Open the lid slowly so you don't startle inhabitants that may be in the meter box.
Consider using a tool such as a screwdriver, if possible, to lift the lid.
Customer Valve
The customer valve can usually be found under a 6" round green lid, directly behind the meter box on the customer side of the meter. This ball valve is a 1/4-turn valve. Your customer valve may look and operate differently and some customers may not have a customer valve at all. If you don't have a customer valve, Texas Water Co strongly recommends that you contact a plumber to install one. Customer valves can prevent significant water loss and/or damage should you have a water leak.